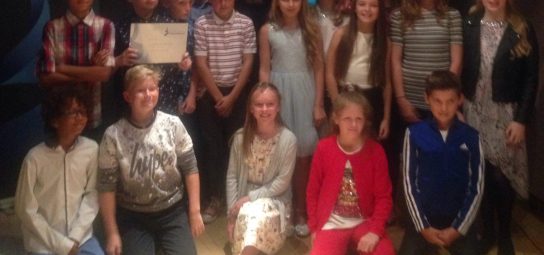 On Thursday 29th September 2016, the Athletics team, Mr Hipkiss and Miss Lenthall were all invited to the Chesterfield Sports Awards night at the Winding Wheel. This was because we managed to get to the County Finals Athletic tournament in Derby. We were nominated as the best team in Chesterfield. When we got there we were delighted to find that Brockwell Junior School was the first award presented.
Although we didn't receive the winning award for Primary Team Achievement, that went to Cutthorpe Primary School, who managed to come 3rd in the Small School's County Athletics Finals, we did get the Highly Commended Award.  Ben Pipes, the Volleyball Olympian, gave us our award and even congratulated us. Megan, one of the athletes reported that, "It was a great experience." We also thought it was a great night and a wonderful experience because we had to go on stage to collect our certificate and then we went to have our photograph taken.
Before Brockwell's next award was given, there were many other awards, like Media and Art Contribution, which was won by Outwood Academy, they also won the School Sport Organising Committee. Whereas, Brampton Primary School won the School Sport Crew, with Old Hall and Hasland Junior School receiving Highly Commended. Finally, it was the School Staff of the Year Award, which our very own Miss Lenthall won, jointly with her ex P.E teacher, Mrs Brammer, from St Mary's secondary School. We were delighted for her.
Our excitement grew further when it was announced that Brockwell's William Bygraves had won the Junior Sportsman of the Year award for his excellent skills in rugby and cricket, his mum was so happy, she even cried. We think he deserved the award as he has made huge contributions to all of Brockwell's sporting achievements. As too did Amber Downham, who we are thrilled to report won the next award for Junior Sportswoman of the Year. Amber is an exceptional swimmer and Miss Lenthall truly believes that she will swim in the 2024 Olympics.
After all this excitement, clapping and cheering it was good to be able to eat and food was served. It was delicious.
Once we were all full, the evening events continued with Coach of the Year being awarded to a swimming coach called Jack Chambers with Dave Cartawick coming second, his Martial Arts club did win the Club of the Year though so he looked happy. Lydia Ingmam also won two awards, the first for Disabled Sportsperson of the Year and then for Sportswomen of the Year. She is very inspirational as she plays golf even though she is deaf.
All year, Mr Hipkiss, Megan's dad, has been helping and supporting with our clubs, training and competitions and he got his reward when he won the Volunteer of the Year award. He told us that he was surprised and delighted but felt very humble that he had been nominated and then chosen for the award. Our final award was for the modeshiftSTARS silver award.
The Chesterfield Sports Award night was amazing. It is definitely an experience we would like to do again.
Well done to Brockwell's Athletics 'A'  team, Amber Downham, William Bygrave, Mr Hipkiss and Miss Lenthall, it was a great way to end a fantastic year of competitive sport for Brockwell Junior School.
Do you think all competitive sport should be celebrated in this way?